SPECIAL ASSISTED PRACTICAS Fri 10/19  & Mon 10/22 
Open Floor + DJ GABRIEL MISSE on 10/19!
For both singles and couples, the assisted practica is an opportunity to work on steps or sequences that you want to improve as Gabriel and Analia provide feedback, demonstrate small sequences and answer questions. They also take the opportunity to teach about the true tango traditions, and educate students about tango music as well as the great milongeros. While these practicas are not milongas, they give you the space and the coaching required to improve your dancing.
On Friday 10/19 after the Practica join us for a special milonga with Gabriel Misse as our dj.
9:30pm – 1:00am: $30 Admission to the Assisted Practica includes the milonga.
11:30pm – 1:00 am $10 Admission Open Dance Floor Milonga with special guest D.J. Gabriel Misse!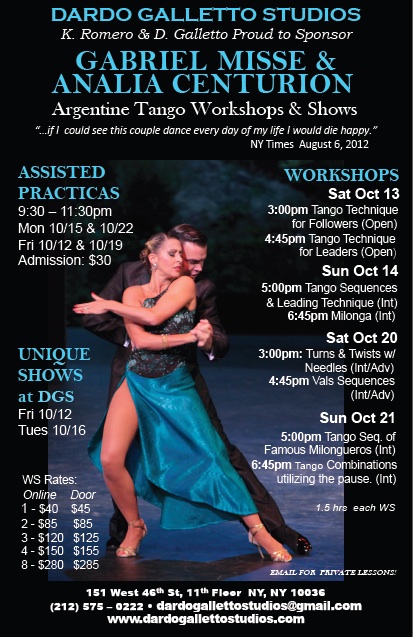 No Refunds or Exchanges Permitted