Melina Brufman & Sergio Diaz

at Dardo Galletto Studios
Tango Workshop, Sat March 21 & Sun March 22
Private Lessons: March, 14 – 25.
Discounts Available on Special Packages. Email us!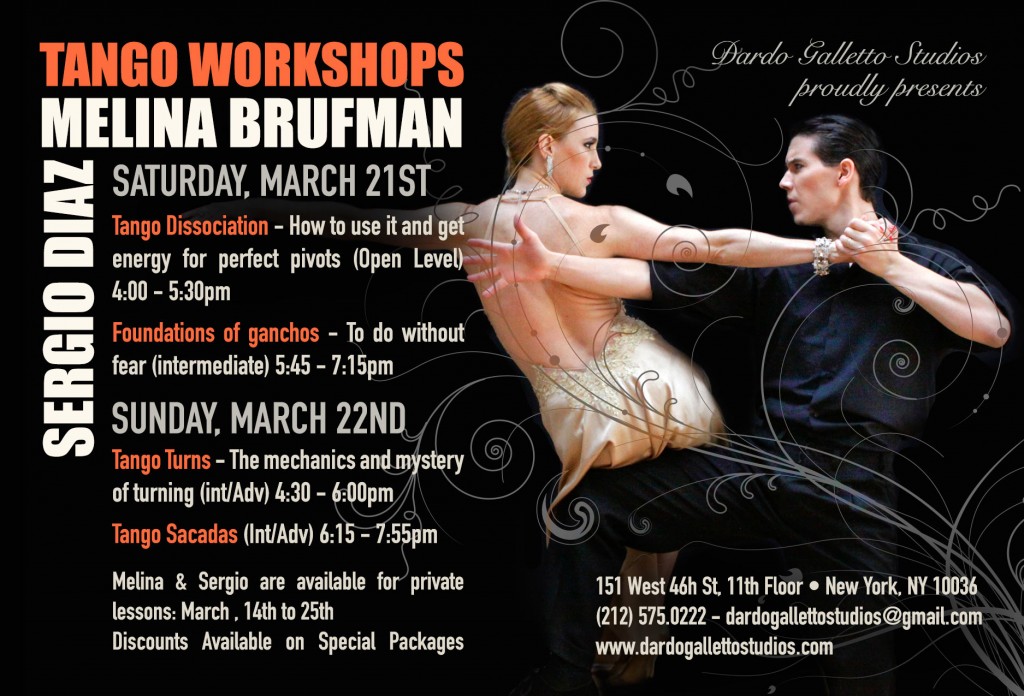 Workshops Rates: 1 Workshop $40 in adv or $45 at the door
                                                              2 Workshops $75 in adv or $80 at the door
                                                              3 Workshops $105 in adv or $110 at the door
                                                              4 Workshops $125 or $130 at the door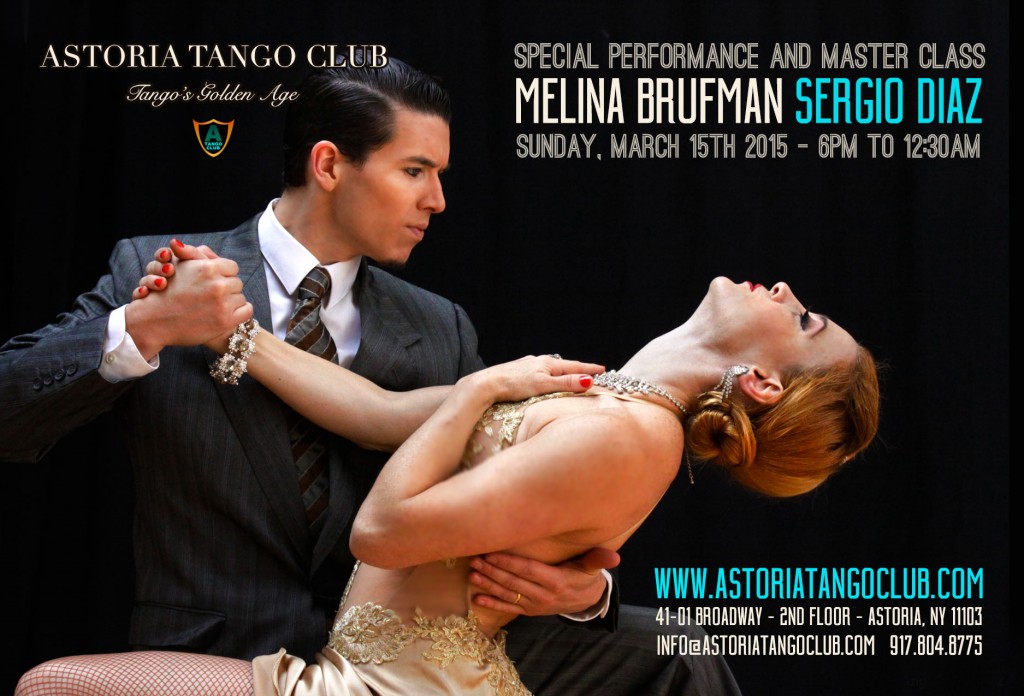 Melina Brufman stands out for her remarkable work in the most important venues on the world such as Schubert Theater on Broadway, Kodak Theater in LosAngeles,The Jackie Gleason in Miami, Teresa Carreño in Caracas, Saddler´s Wells in London, Sistina of Rome, Casino Theatre in Paris, just to name a few.
Her passage through the most important Argentinean Tango Musicals such as "Tanguera" or "Forever Tango" gave her the opportunity of trying different styles, enrich her versatility as interpreter and develop a scenic criterion that at present reflects her many choreographic creations. As choreographic director she had been in charge of creating and dancing in several tango shows such as "Tango Elemento", "Duas Beiras", "Tango Encoded Episodes" which has been shown in USA, Europe and Argentina.
She had the main feminine role in "Eternamente Tango", a show that performed every night in buenos aires from 2007 to 2009, where she had worked also as resident choreographer. From 2006 to 2010 she was part of the renowned company "Otango", and form 2011 to 2013 she integrated "M¡ilonga", a tango creation by the great contemporary artist Sidi Larbi Cherkaoui. In 2014 she was responsible for the choreographies on the movie "Un Tango Mas" directed by German Kral.
Her particular style represents a trademark which distinguishes her as exponent of the dramatic possibilities of the Argentinean tango. As teacher she have participated in several festivals all around the world: "TangoMagic" in Amsterdam, "Oster Tango" in Basel, Berlin Tango Festival, Chicago Tango Week, Smith Tango Festival in L.A, NJ Tango Festival, Nora's Tango Week in San Francisco, Baltimore TangoElement, Cosmotango in BA, MisterioTango in BA, ZuccaTango Festival in Milano. She is part of the official selected jury for the Tango World Championship in BA since 2005 to the date.
Sergio Diaz, dancer and choreographer has distinguished himself professionally by both his tenacity and discipline as an artist. Sergio's performances have been featured in some of Buenos Aires' most renowned tango shows including Madero Tango, La Ventana, Tango Rojo, and Esquina Homero Manzi among several others.
His choreographic experiences entails his work in the tango spectacular "Tango Balvanera" in Buenos Aires from 2005 until 2012 as assistant director and choreographer, and his participation in the choreographic creation from the movie "Un Tango Mas" directed by German Kral in 2014.
Sergio's dance experience includes being casted in Mora Godoy's tango musicales "Milonguera" y "Tango Emotion," and touring worldwide with the company "Tango Lovers" which showed at prestigious theatres such as The National Center of Performing Arts in China, The International House of Music in Moscow, Russia, Broward center for the performing arts in Miami, Florida, The Jackie Gleason in Miami, Florida, among others.
As a maestro of tango Sergio's focus has been the creation and investigation of new forms in how to convey the tango. He was part of the staff of maestros for the school of Mora Godoy from 2007 to 2013, and was in charge of the school's curriculum from 2010 to 2013. Sergio was invited as one of the guest teachers to the CITA Tango Festival and the Buenos Aires Tango Festival. In 2014 he formed part of the official selected jury for the Tango World Championship in Buenos Aires.