Welcome Fayzah to Dardo Galletto Studios!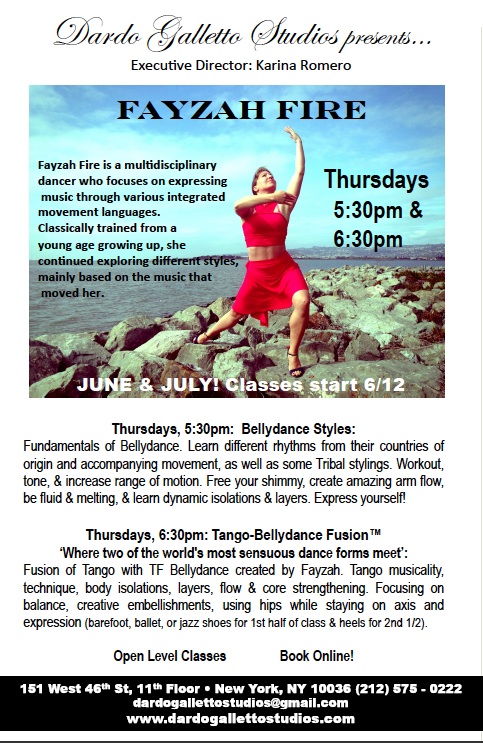 Fayzah
 Fire is a multidisciplinary dancer who focuses on expressing music through various integrated movement languages.
 Classically trained from a young age growing up, she continued exploring different styles, mainly based on the music that moved her.
Fayzah
 is known for her work in Tribal-Fusion style Bellydance, and also has extensive experience teaching & performing classical & folkloric styles from various countries in North Africa, the Middle East, & near east.
She holds a teaching certificate in Middle Eastern Dance Arts, and studied dance in Egypt in the early 2000's.
Fayzah
 started dancing Tango in the late 90's, and was the first partner of Homer Ladas. In 2003 
Fayzah
 co-founded Tango Puerto Rico and started teaching tango classes in Santurce, PR.
Since her move to NYC, 
Fayzah
 has stayed active in tango, social dancing, hosting Tango X (exploration) Sessions, and performing.
She developed her own solo tango fusion, combining elements of dance styles from North Africa, Arabia, India, & Spanish Flamenco, with Argentine Tango.
She has taught and performed her Tango-Bellydance Fusion™ in the US, Canada, Europe, & Asia.
Fayzah
 has performed Argentine Tango with several partners, at the gala for the Newark Symphony, theater shows, and corporate functions.
In addition to dancing Tango & Bellydance, 
Fayzah
 is also a Street Styles dancer & Fire performer.
She is frequently invited overseas to teach, perform, and judge competitions.
Her choreographic works are featured on several performance DVD's, and she has created the instructional DVD's "Fluid Tribal" & "Android Goddess".