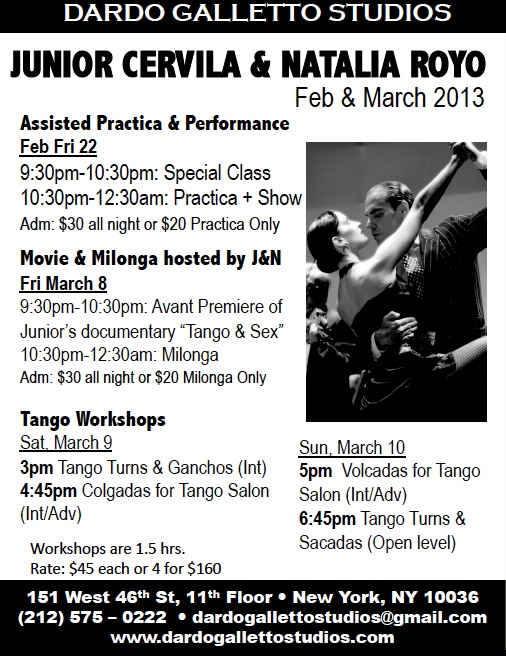 JUNIOR CERVILA & NATALIA ROYO
 Antonio "Junior" Cervila is an internationally known performer, choreographer and instructor. He is recognized for his creative tango stylings, his intricate footwork, as well as his dance versatility. Junior has been choreographic assistant to tango legend, Juan Carlos Copes, and his performances have been seen worldwide on Argentinian television, on stage (Broadway's "Tango Argentino"), on tour (most notably with Julio Iglesias) and on screen ("Tango", nominated for an Academy Award for best foreign film, 1999).
 Natalia Royo´s background in Artistic Gymnastics has given her a versatility which she has applied to many dances such as tango, jazz, classical ballet, samba, salsa, and zouk. She joined Junior Cervila´s Latin Dance Company in 2006 and since then has toured with them to Japan, USA, Brazil, Russia and Greece as well as performing in Argentina, and since 2007 has assisted Junior with his choreography for the company.
She is a renowned teacher, and has taught at the Salon Canning and La Escuela Argentina de Tango de Buenos Aires at Centro Cultural Borges in Buenos Aires, and has taught at the Salon Gricel with Demian Garcia in Buenos Aires. She has also filmed a DVD series teaching Tango.
Workshop Rate:
$45 each or 4 for $160
No Refunds or Exchanges Permitted